AR Business Card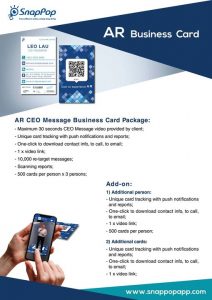 Feeling bored when receiving and sending numerous conventional business cards?
 Wanna try to receive and send cutting-edge business cards with the latest AR technology?
Now we introduce the unique AR business card to you.
Also, you can apply for D-Biz subsidy by HKPC if your company is based in HK.
Additionally, we are the
#soleproduct
in Hong Kong so that you can just get and submit our quotation to HKPC when applying D-Biz ONLY!
Please check the photo for details!
Contact us if you are interested!
Our name as a service provider in HKPC: ConnectAR Limited
Our code as a service provider in HKPC: SP-554-480
We are in category #1,3,4,9